THE FRIENDS. THE ROAD TRIP. AND THE DRIVE.
The journey from Abu Dhabi to Beirut is rife with challenging terrains and unseen revelations. This is the path taken by three friends in Ali F. Mostafa's upcoming feature film 'From A to B' as they set out to rediscover their friendship.
Joining them is the Range Rover Evoque, making its regional debut, as the '4th star' in the acclaimed Emirati director's much-anticipated second feature film. View behind-the-scenes images from this epic road trip and watch an exclusive trailer showcasing the drive.
The land forms the scenic backdrop, the stars bring the drama and the Range Rover Evoque enables the adventure.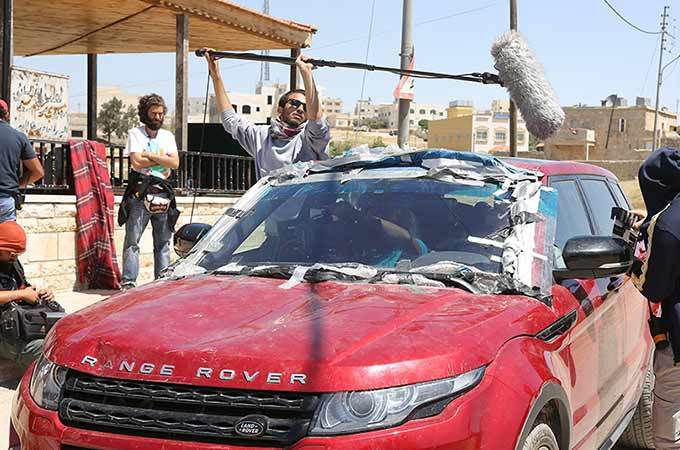 We had a quick chat with the very talented director, Ali Mostafa, about his biggest project yet, "From A to B" during Al Tayar Motors' private movie screening.
How is "From A to B" different to your previous projects?
How did it feel shooting the film? My previous project, "City of Life" put me under pressure because it was my first movie. This time with "From A to B", there was a different type of pressure – the studio was with me at all times, whereas in "City of Life" I had more creative freedom. Surprisingly enough, the pressure on the set of "From A to B" turned out to be a blessing in disguise. It was a helpful experience and I was able to practice the freedom I needed.
Did you choose the cast? Are they your friends?
Yes I did. We did a casting and I selected those who suited the roles. None of them were my friends at the time of the casting.
One of your lead characters, Shadi Al Fons, used to be on "Al-Bernameg", a popular satire show in Egypt hosted by Bassem Youssef, so how did you find him?
We auditioned hundreds of people and Shadi was one of them. I only found out that he was on Al-Bernameg after we casted him. We became friends by the end of the movie.
How was Range Rover Evoque behaving on the road?
This car was with with us from day one. It went through major intense conditions during the shoot yet it still came out as if nothing happened. Amazing!
What is your interpretation of #MYLAND?
#MYLAND is the place that made me who I am today.
Will we be seeing elements of that in the movie?
Absolutely!
What is next for you?
I really can't talk about it. It's a secret.
Can you at least give us an idea about the genre?
It's a thriller.
"From A to B" is in the theatres now – watch it and discover more about Range Rover Evoque throughout the film.
Don't forget to follow our Brand Ambassador, Ali Mostafa, on Instagram and Twitter!